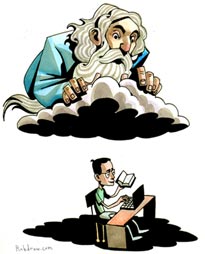 Here's an example of the effectiveness of blogging: someone blogged the
Super Bowl commericals
.
What's more, the same online journal (
slate.com
) is paying someone to
blog the Bible
! (Sample entry:
The Bible's Pulp Fiction
-- What Tarantino stole from Ezekiel
.) Download an MP3 audio interview with the blogger
here
, or you can sign up for a podcast on
iTunes
here.
Someone else, however, has
had enough....